The internet's amazing: it's the perfect place to learn new things, meet new people, and enjoy some digital retail therapy. However, now more than ever, innocent visitors suffer the sinking feeling that they've been stung by a scam. Studies show that new phishing sites appear every 11 seconds, and fraudulent pages spiked by 15% in 2022 alone. To combat this accelerating threat, governments and organizations build a list of scamming websites. These lists help authorities hold scammers to account, while warning others to avoid dangerous pages.
Learning more about anti-scam infrastructure helps you develop the know-how needed to stay safe online. As we'll discuss, website scam lists support consumers in identifying and flagging cybercrimes. Organizations also draw from holistic solutions to mitigate digital risks.
How to identify a suspicious web page
Cybercriminals constantly develop new tactics to trick their targets. However, if you know where to look, a few tell-tale signs can give them away. Fraudsters often choose cybersquatting or typosquatting, where their domain names imitate a legitimate website almost identically- emphasis on the almost. If you see a URL using typos or substituting numbers for letters (e.g. go0gle.com), chances are that it's a fake page that you should add to a list of scamming websites.If you notice an exaggerated sense of urgency and an unrealistic deal, these red flags suggest a malicious website scam.
Thankfully, anti-scam experts offer plenty of options to verify your suspicions. These include guidance from industry experts like EBRAND and the GASA (the Global Anti-Scam Alliance), URL checkers with lists of scamming websites, and risk protection software as a business solution.
How to use a list of scamming websites
To check a website's reputation from a list of scamming websites, use a reputable URL checker tool. Services like ScamAdviser's CheckMyLink tool and Google's safe browsing site status tool log tens of thousands of websites to their list every day. Using smart algorithms, scam databases, and threat intelligence, they evaluate a page's safety score. Simply paste a URL into their tool and decide whether it's safe to browse: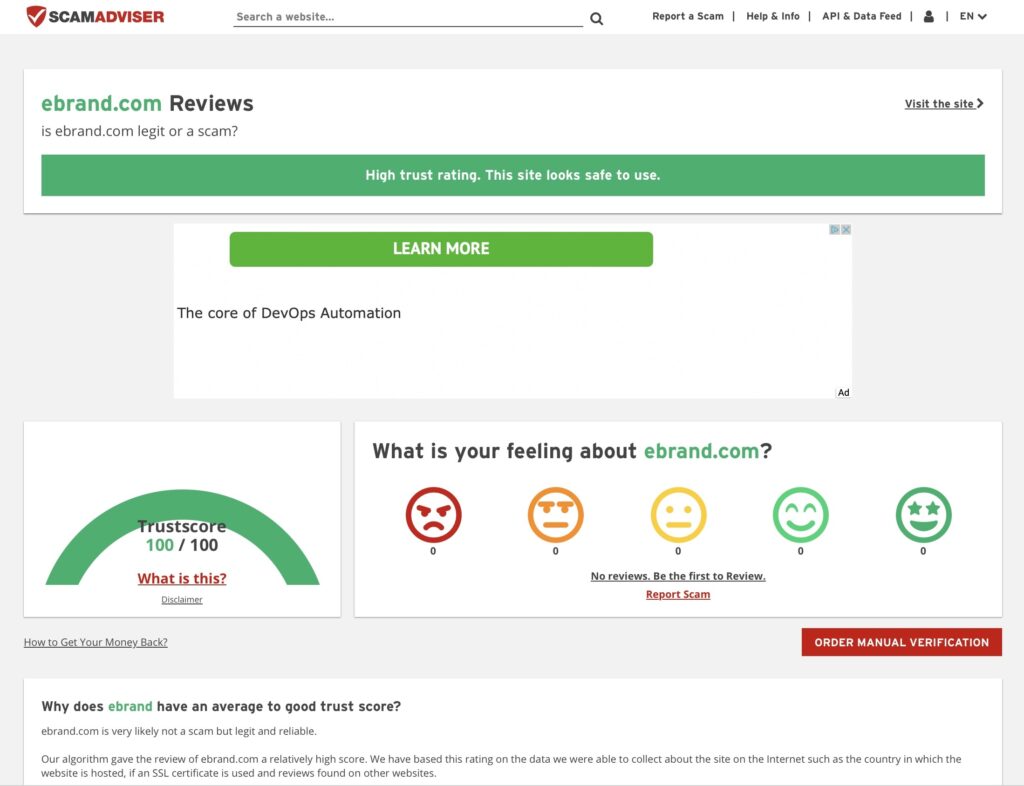 These websites can't guarantee safe browsing, but they do offer data-driven analysis to help keep yourself and your business safe. Businesses also opt for comprehensive solutions to protect themselves from online scams, inside and outside of scam lists.
How businesses tackle online scams
Scams damage a company's reputation, as data breaches compromise customer trust and even result in compliance fines that undermine revenue. Without even mentioning the threats of malware and ransomware, scams online highlight the need for a proactive solution.
Where consumers search individual URLs from a list of scamming websites, Digital Risk Protection platforms let businesses search for their own domains, branded phrases, images, and logos. Solutions then use AI-powered scrapers to search across web content, domain registrations, social media platforms, and even the dark web to identify and eliminate scammers. From there, threat monitors and risk-scoring algorithms help you build, prioritize, and act upon a list of scams.
How governments keep consumers safe while building a list of scamming websites
Plenty of digital avenues help you check a URL if you're suspicious about a scamming website. Businesses use their own private risk scoring and threat intelligence solutions. However, consumers can also access government-authorized platforms for listing and reporting website scams.
These platforms, often powered by anti-scam experts and think tanks like the GASA, provide peace of mind for internet users across the globe. Whether you're in Denmark, Ukraine, Australia, the UK, or anywhere else in the world, reliable solutions help you stay safe. Governments provide verified URL checkers, like the private examples from Google and ScamAdviser. Their official pages often list typical scams, and inform you with emerging cybersecurity stories.
To add to a list of scamming websites, or report when you've been scammed, get in contact with your national authorities. These examples from French and British public websites can help inform your next steps. Reporting channels often feed into official lists of scamming websites, helping you hold scammers accountable and protect future victims online.
Improving your security posture against online scams
As scammer networks grow, anti-scam alliances grow alongside them, offering plenty of resources to tackle cybercrime. Both EBRAND and GASA supports consumers and governments around the world building lists like these, helping Western and developing nations tackle scamming websites. Using reliable threat intelligence tools, joining the conversations and exploring posts like this, and meeting experts in events like GASA's summit helps you and your team stay resilient against any threats you encounter online.
Conclusions: How to leverage a list of scamming websites
To build a list of scamming websites, we leverage our shared strength against cybercriminals: togetherness, alliances, and collaboration. A scam's shady criminality means that fraudsters must work alone, or in secret networks. By contrast, legitimate businesses and authorities work proudly with digital risk experts and anti-scam groups. Collaborating with these groups to share awareness, and anti-scam identification and action tools, helps make the internet a safer place.
Find out more about how governments and law enforcement groups tackle fake websites and other digital risks right here.