Defeating online scams requires teamwork, technology, and international collaboration. With that in mind, EBRAND teamed up with the Danish registry Punktum.dk, the Confederation of Danish Industry (DI), and the scam-checking powerhouse ScamAdviser. This new, collaborative platform protects users in the dk space and beyond.
Here, we'll explore the new platform and the partnership. We'll also cover its potential for safeguarding users by empowering them to tackle online scams.
What is the new dk anti-scam platform?
From August 2023, we're launching Tjekpånettet.dk, as premium partners with ScamAdviser, DI, Punktum DK. This platform delivers simple, effective tools for checking a website's reputation. These reputation insights help you distinguish safe websites from scams online.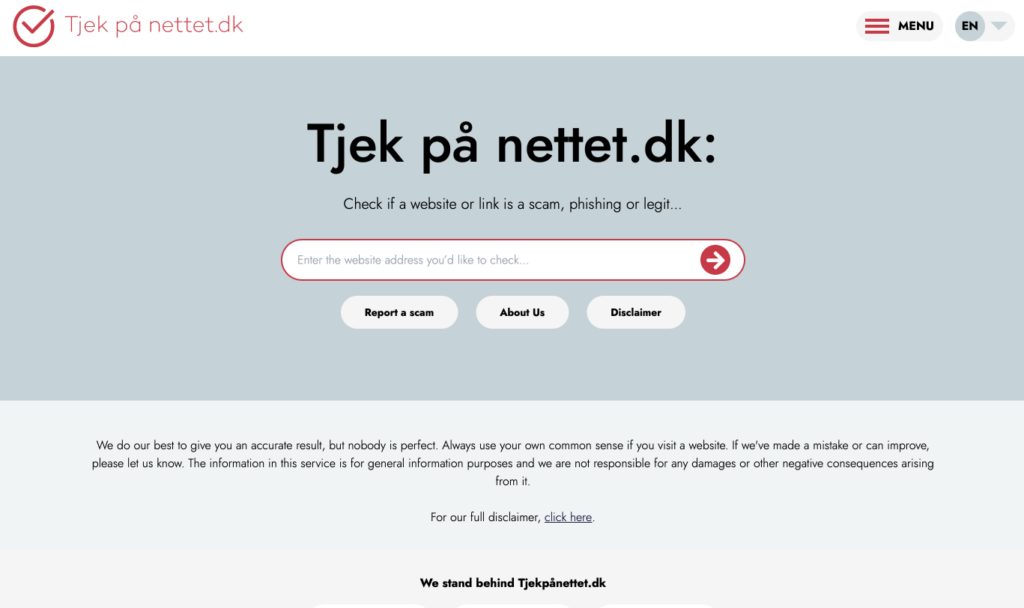 Detecting fraudulent websites helps defuse all kinds of cyberattacks, from copycat websites to phishing attacks and holiday scams.
The power of partnerships
A larger pool of partners worked together to back us up, including prestigious Danish institutions, international corporations, specialist cybersecurity firms.
Partners include:
And many more, as you can see on the platform itself.
In short, this platform marks a celebration of international, cross-industry collaboration. 
How to detect website scams in the DK space and beyond
Tjekpånettet.dk delivers vital threat intelligence for consumers and end-users, helping them learn more about which sites to trust, and which to avoid. Combining scam-checking websites with other safety measures, including your own research, and other analytical tools like DNS lookups, all help users stay safe and fight website scams. 
Businesses require more thorough solutions for detecting, monitoring, and eliminating website scams and digital risks, and that's where EBRAND comes in. Find out more about website scams, scam-checking websites, and how to stay safe online for businesses and consumers alike in our collab blog with GASA, the Global Anti-Scam Alliance. 
Conclusions
In conclusion, let's celebrate this platform launch! We'd also encourage you to explore Tjekpånettet.dk. Finally, thanks to our partners for helping us make the internet, and the DK space, a safer place.
Incidentally, EBRAND and Punktum DK will also meet at the Global Anti-Scam Summit in October, along with industry leaders from around the world. Join us there to take a further stand against scammers, and protect businesses online.